Merci Train - Oregon



Oregon Merci Boxcar at its new location in N. Bend, OR shown on the day of its dedication, July 15, 2006. Since then, as seen in John Steven's July 2010 photos below, the openings in the wood framework have had glass or plexiglass put in them on all four sides, thus providing further protection from the elements.
P.S. We appreciate your suffering getting rained on to make these pictures for us John.




Location:
Simpson Park
N. Bend, OR - (just in front of the Coos Museum)

Contact:
Mr. Kevin Owens
40 & 8 Society - Voiture #316
N. Bend, OR
541-297-1899
E-mail Him

Artifacts:
Coos Historical and Maritime Museum has a collection of some of the artifacts that came in the Oregon boxcar, many are on display. The museum's address is 1220 Sherman Avenue, North Bend, OR 97459, 541-756-6320, contact Vicki Wiese, Museum Curator. There are also unconfirmed reports that the Benton County Historical Society in Philomath has some of the gifts.
Printer Friendly version of the above location information.
Click on the 2 images below to view full size
No full size image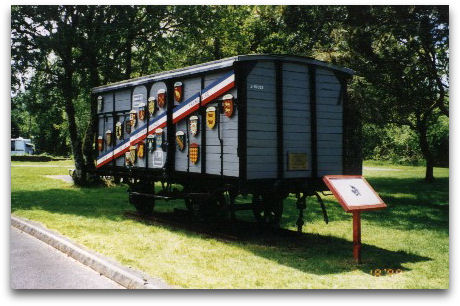 Boxcar at its former location at Old Fort Stevens Historical Park
in Hammond, OR.