Merci Train - North Carolina
| | |
| --- | --- |
| | Click on the image below to view full size |

Location:
North Carolina Transportation Museum
411 S. Salsbury Ave.
Spencer, NC 28159
Contact:
Tim Bottoms - (704) 636-2889
Artifacts:
The North Carolina Museum of History has a significant collection of Merci Train artifacts that arrived in their Merci box car. The museum is located at:
5 East Edenton Street - Raleigh, NC 27601-1011
Contact John Campbell - Collections Manager (919) 807-7900
Printer Friendly version of the above location information.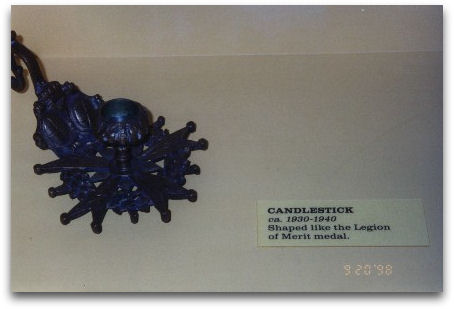 Photo by Earl Bennett

John and Sue Ann Irving's visit to the North Carolina Boxcar
We arrived in Salisbury at the North Carolina Transportation Museum at 2:35 pm. It's a rather large installation with a great deal of train equipment on display, and even more awaiting restoration.
The Museum is located on the 57 acre site of what was once Southern Railway Company's largest steam locomotive servicing facility. J.P. Morgan, Southern's owner, chose the site because of its location midway between the railroad's major terminal points of Washington, D.C. and Atlanta, Ga. Construction of the Shops began in 1896, and they were named in honor of the first president of Southern Railway, Samuel Spencer. During its peak, Spencer Shops employed nearly 3,000 people, which directly and indirectly provided most of the jobs for the towns of Spencer, East Spencer and other surrounding Rowan County communities.

In September 1977, Southern Railway donated four acres of the site, including three buildings, to the state of North Carolina. A second donation in 1979 included several additional historic structures. (From the N.C. Trans. Museum web site.)
We were given directions to the location of the French boxcar by an older gentleman in the visitor's center. When we first asked about the French boxcar, there was no recognition. Merci Train didn't do it either. As soon as John said 40 et 8 Society, that rang a bell, and he knew just what we were talking about. Interesting note, we found no one who really knew anything about the history of the car, nor was there any display of information about the car.

(Sue Ann: The volunteer thought that the French had sent the boxcars in gratitude for our liberating their country. He did not know anything about the food sent to France by the American people on The friendship Train nor the gifts sent back inside the French boxcars. Of course, we "gently" educated him as best we could..one more person now knows this story!)
This car had been moderately restored. Some of the wood had been replaced. There was some original wood left in the windows, but some dry rot was apparent. It had been painted and overall looked pretty good. Some metal pieces had been removed/lost. The province plaques varied from good to poor condition. Some had been replaced. The chassis was in fair shape but had a lot of rust showing through the paint. The floorboards may have been original, from the look of them on the underside.
We were hoping to look inside, but the volunteer couldn't find the key to the lock. The boxcar is located in a building, which is good, but it needs some loving care.
After viewing the boxcar, we walked through the very large locomotive repair shops which are now being used for a display area for locomotives, passenger cars and other old rail equipment.

(Sue Ann: Most interesting to me was the Hospital Car that had recently been restored and opened for viewing. These cars were used in WWII. Wounded soldiers would arrive on the east coast from Europe. They would be separated by where they needed to go for further treatment..there were five different routes to reach the different regions of the country. Each Hospital Car had triple bunks on both sides of the car. Each car had a doctor and some nurses, depending on how much care was needed in that car. The medical supplies and food were brought on board as they went along their route.)
Click on the image below to view full size