Merci Train - Washington
Click on images below to view full size, except flag
| | |
| --- | --- |
| Photo by Dr. A. "Bud" Langan of Firecrest, Washington | Photo by John Stevens |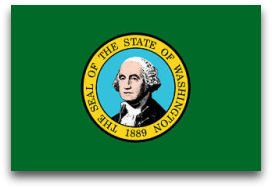 Location:
Sarg Hubbard Park
111 South 18th Street
Yakima, WA 98901
Contact:
Yakima Valley Museum
2105 Tieton Drive
Yakima, WA 98902
Artifacts:
Washington Merci Train artifacts are reported to be in the Karshner Museum, located in Puyallup.
Printer Friendly version of the above location information.
Photos by Bob McElroy

Merci Train - Washington State Merci Car Visit
Back on this year's (2008) observance of America's Independence Day holiday, our friends John and Sue Ann Irving along with their friends Bob & Carol McElroy (all of whom live in Oregon) made a visit to the Washington state Merci Boxcar in Yakima, WA. Here's what they had to report. Thanks, folks, for sharing this with us. - Earl Bennett
Washington State's French Gratitude Train boxcar Visit
John and Sue Ann Irving
We found Washington State's French Gratitude Train boxcar without any problem. It's located in a very nice park and placed in an enclosure to protect it, somewhat, from the elements. Appearing in moderately decent shape, it has been vandalized a little and the birds that are nesting on the beams overhead haven't been very kind. It has been painted a seafoam green, and could now stand another coat of paint. The wood sides are showing some dry rot. Some of the provincial plaques are missing, most likely part of the vandalism. Other than that, it looks pretty good. The undercarriage looks good and, although we couldn't get close, seems intact. In order to last, it needs to be moved indoors or be put in a completely enclosed display, not just a roof overhead and protective bars on the sides.