Merci Train - South Dakota
Location:
Next to the SD Dept of Agriculture Building
895 3rd St.
Huron, SD 57350

Contact:
Contact for SD State Historical Society Museum:
Dan Brosz, Curator of Collections - South Dakota State Historical Society
900 Governors Drive
Pierre, SD 57501
605-773-6013 / FAX: 605-773-6041 - E-mail

Contact for Boxcar information:
Ken Oestreich - 605-852-2688 - E-mail
Printer Friendly version of the above location information.

Photos below taken by Daniel Liedtke
Operations Manager/ Curator of Collections
National Railroad Museum
2285 South Broadway
Green Bay, Wisconsin
Click on the images below to view full size
Here's a PDF file of an article that appeared in the Daily Plainsman Newspaper on Sept. 1, 2015, submitted by Daniel.

Daily Plainsman PDF

| | |
| --- | --- |
| The photo to the right is actually a model of one of the 40 & 8's that was the property of Charlie Horine, a WW1 veteran; it is currently owned by his daughter, Mary Jane Thompson, of Huron, SD. She is also the owner of the toy dog and children's book in the picture below. The toy dog and the book were purchased at an auction of some of the S.D. Merci Train artifacts, circa 1949. The proceeds of the auction was used to help purchase a whirlpool bath for polio patients. | |
Click on the image below to view full size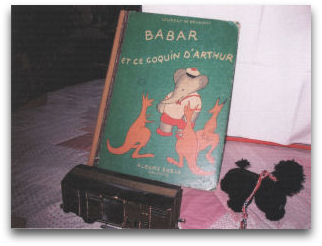 Photo above taken by Patricia Connors
Currently stored in the archives at the Southern Museum of Civil War and Locomotive History in Kennesaw, GA.
Thanks to Daniel Pete for scanning the photo and sending it to us.

Artifacts:
Approximately 2 dozen items, some pictured below, located at the SDHS museum.
Click on the images below to view full size